Read more about MSc HESS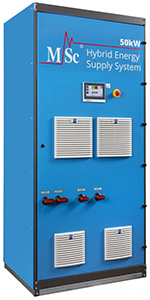 MSc HESS Hybrid Energy Supply System makes it easy to create an independent microgrid connecting available energy sources such as solar panels, modern diesel generators or batteries. Microgrids are typically used in areas where centralized power grid is not available.
Hybrid system helps to reduce carbon emissions as the use of die- sel generators can be minimized with smart control. MSc HESS automatically optimizes the energy supply by loading the batteries when there is more energy available from renewable sources than the current need. Diesel generator is only started when the needed capacity is not available from either renewable sources or batteries.
Download
Download our brochure to find out more information about HESS