< All news
Latest news
26.01.2023
MSc`s e-drive system for the world's first highly radioactive nuclear waste transporter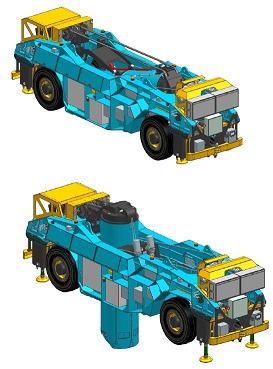 A significant milestone of the project was reached in the middle of December in the presence of the customer. All functional and electrical system tests were successfully completed at the factory premises prior to delivery to the vehicle manufacturer.
MSc is supplying converters and energy storage for Posiva's canister transfer and installation vehicle (KSAA), which is a battery powered electric vehicle operating underground. This will be the first nuclear fuel canister transfer and installation vehicle in the world.
MSc scope of supply includes the main and auxiliary motor drives and also converters to charge the vehicle battery. Also, the 200 kWh energy storage system is part of the total system delivery.
All components are designed for strict safety requirements, demanding environmental conditions and long lifetime.
More about MSc's scope of supply
https://www.msc.eu/news/archive/2021/4
Holistic view to Posiva's final disposal solution as a whole