News archive
MSc Electronics awarded by Kauppalehti Achiever 2015
22.10.2015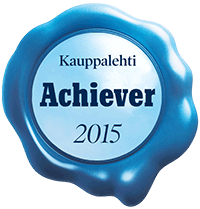 Balance Consulting, the analysis unit of Kauppalehti has granted Achiever status to MSc Electronics Oy for its financial performance.
Companies receiving Achiever certification are stable businesses with solid growth, good financial results and profitability, a strong financial structure and liquidity to ensure continued operation.
A comparison of these key indicators has put this company in the top tier of its own industry and the entire country.
The Achiever 2015 rankings are based on the financial years ended between June 2014 and May 2015.
Press release 13.3.2015: MSc announces double digit growth and good profitability in 2014
13.3.2015
After the functional integration and re-organization of both MSc companies (MSc Traction Oy and MSc electronics Oy, later as MSc) the companies has started to increase profitable turnover. The year 2014 ended up with 18% increase in turnover and EBIT was in good 8,5% level.
Total turnover of 3,4 MEUR and 0,29 MEUR EBIT are achievements of which MSc and all its employees should be proud of. Direct export sales to 16 different countries was totalling appr. 50% of the turnover.