Latest news
Meet MSc in Nuremberg SPS IPC Drives exhibition
15.10.2018
Meet MSc in Berlin, Innotrans 2018 Fair
3.9.2018

Welcome to meet MSc experts on stand 313, hall 11.1 at InnoTrans, 18-21 September, Berlin
InnoTrans is the leading international trade fair for transport technology and takes places every two years in Berlin. Sub-divided into the five segments Railway Technology, Railway Infrastructure, Public Transport, Interiors and Tunnel Construction, InnoTrans occupies all 40 halls available at Berlin Exhibition Grounds.
MSc Electronics & Traction Oy achieves a remarkable milestone - delivers their 15 000th power converter!
18.6.2018
MSc Electronics & Traction Oy achieves a remarkable milestone - delivers their 15 000th power converter!
Last week, MSc Electronics & Traction Oy hit a respectable number of 15 000 power converter deliveries since the founding of company in 1985. We would like to express our most sincere gratitude to all our customers, subcontractors and employees who have made this incredible achievement possible.
In the over 30 years of their existence, MSc has manufactured power conversion solutions to many kinds of industry, smart grid and rolling stock applications. MSc is known for durability of their products in the most ruthless environments. Our converters can be found in train and tram cars, paper mills, industrial cranes and fuel cell applications from Middle East to the Northernmost Lapland. Several converters can be found even in submarines sailing in the Pacific Ocean!
We are super proud for our success and profitable growth. This year alone, we have recruited three more power conversion professionals!
In the years to come, we will pursue for even higher product quality and customer excellence to achieve even greater end results. Once again, we thank everyone who has been in this journey with us. Let us continue growing together! And remember to celebrate and share your accomplishments as well!
For more information about MSc, please visit: https://www.msc.eu
MSc wins a contract to update DB's ICE3 train battery chargers
8.5.2018
MSc Traction delivers for DB the new ICE3 battery charger prototype
MSc Traction Oy has won a contract to design and deliver a test series of new battery chargers for high-speed ICE3 trains operated extensively by Deutsche Bahn. The new contract broadens MSc Traction operations with ICE3 trains considerably and is recognition for the high quality of MSc products.
The renewing of battery chargers is a part of the ICE3 renovation programme, which will be carried out during 2017-2020. The number of battery chargers to be changed can increase up to 400 pcs.
MSc Traction won the public tender competition against international competitors, and hence the order can be considered as a huge endorsement on the reliability and quality for MSc Traction products and services.
MSc Traction has delivered earlier ca. 140 special motor controllers for the ICE3 train HVAC systems during 2004 – 2018.
"We have a good track record from deliveries of ICE3 air conditioning motor controllers. We consider the quality of our work and excellent cooperation with the client as the crucial factors in winning this contract." says Mr. Pekka Seppälä, director of design and technology at MSc Traction Oy.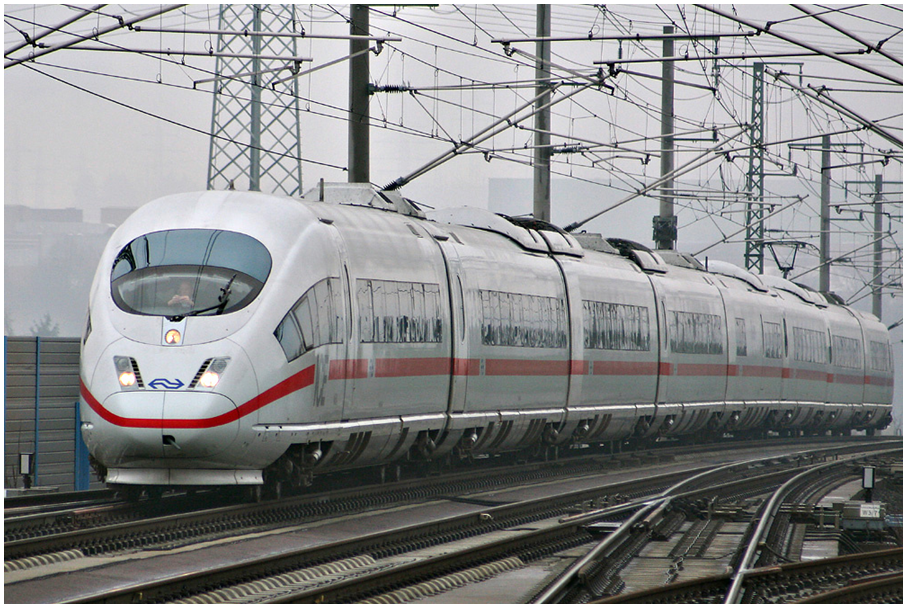 ICE3 train on the Cologne-Frankfurt high-speed line. (Photo by Sebastian Terfloth)
Welcome to meet us at EES2018 in Munich!
23.4.2018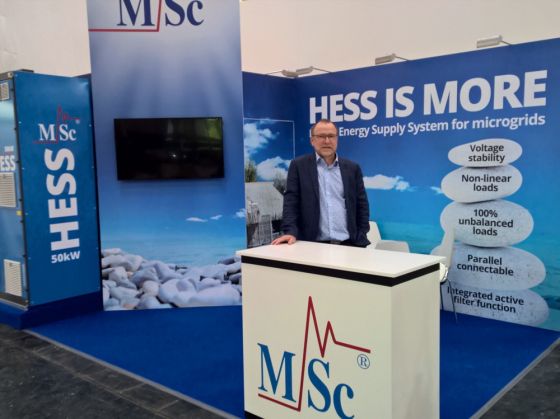 Petri keeping good care of our stand last year. Photo is taken just before the event started.
Welcome to meet us at Munich!
MSc is participating in EES2018 held in Munich between 20th and 22nd of June. We will be presenting our Hybrid Energy Supply System (HESS) which makes it possible to run a 50 to 400 kW off-grid power system where ever the power is needed.
We'll be happy to see you at our stand C1.315! Come and take a visit!