Latest news
MSc wins a contract to update DB's ICE3 train battery chargers
8.5.2018
MSc Traction delivers for DB the new ICE3 battery charger prototype
MSc Traction Oy has won a contract to design and deliver a test series of new battery chargers for high-speed ICE3 trains operated extensively by Deutsche Bahn. The new contract broadens MSc Traction operations with ICE3 trains considerably and is recognition for the high quality of MSc products.
The renewing of battery chargers is a part of the ICE3 renovation programme, which will be carried out during 2017-2020. The number of battery chargers to be changed can increase up to 400 pcs.
MSc Traction won the public tender competition against international competitors, and hence the order can be considered as a huge endorsement on the reliability and quality for MSc Traction products and services.
MSc Traction has delivered earlier ca. 140 special motor controllers for the ICE3 train HVAC systems during 2004 – 2018.
"We have a good track record from deliveries of ICE3 air conditioning motor controllers. We consider the quality of our work and excellent cooperation with the client as the crucial factors in winning this contract." says Mr. Pekka Seppälä, director of design and technology at MSc Traction Oy.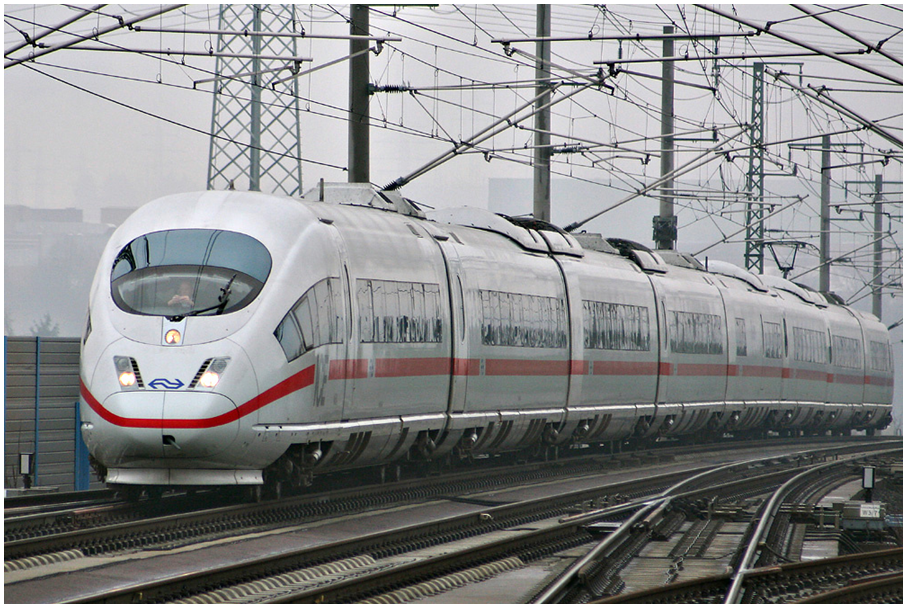 ICE3 train on the Cologne-Frankfurt high-speed line. (Photo by Sebastian Terfloth)
Welcome to meet us at EES2018 in Munich!
23.4.2018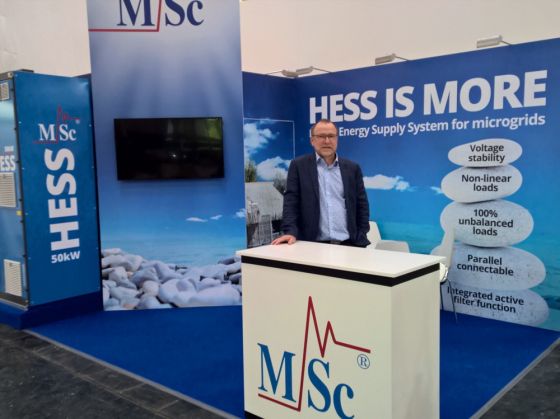 Petri keeping good care of our stand last year. Photo is taken just before the event started.
Welcome to meet us at Munich!
MSc is participating in EES2018 held in Munich between 20th and 22nd of June. We will be presenting our Hybrid Energy Supply System (HESS) which makes it possible to run a 50 to 400 kW off-grid power system where ever the power is needed.
We'll be happy to see you at our stand C1.315! Come and take a visit!

We are hiring! Product engineer, Power electronics
22.3.2018
Työpaikkailmoitus, tuoteinsinööri
MSc on tamperelainen tehoelektroniikan huippuosaamisen yritys. Yhtiö on yli 30 vuoden toimintahistoriansa aikana toimittanut yli 15 tuhatta erikoiskonvertteria. Olemme erikoistuneet konvertteriratkaisuihin uusiutuvan energian sovelluksiin, teollisuuteen ja raideliikenteeseen. Olemme saavuttaneet merkittävän markkina-aseman kotimaassa ja kansainvälisesti (suora vienti yli 50%). Liikevaihtomme on noin 3,6Meur ja henkilöstömäärä 21 (pääosin teknisiä toimihenkilöitä). Olemme vakavarainen ja kannattava yritys.
Panostamme vahvasti uusiutuvan energian markkinan kehitykseen ja tavoittelemme vahvaa asemaa mikroverkkojen sähkönsyöttöjärjestelmien toimittamisessa. Uusi tuotteemme MSc HESS on useammasta lähteestä energiaa ottava hybridi-sähkönsyöttöjärjestelmä, jolla voidaan rakentaa verkko, jossa sähkö tuotetaan esimerkiksi aurinkopaneelien, akuston ja dieselgeneraattorin yhdistelmällä.
MSc HESS sähkönsyöttöjärjestelmän (www.msc.eu) testaukseen, käyttöönottoihin, tuotetukeen ja asiakaskoulutukseen haemme nyt tuoteinsinööriä.
Tuoteinsinööri,
Tehtävät:
- Konvertterijärjestelmän testaus, käyttöönotot ja tuotetuki. Konverttereihin liittyvissä teknisissä kysymyksissä etsit aktiivisesti vastauksia ensin yhdessä tuotekehityksen kanssa ja jatkossa omaa osaamistasi kehittäen.
- Alussa tehtäväsi on ensisijaisesti järjestelmän testaus ja käyttöönotot, jatkossa myös myynnin ja yhteistyökumppaneiden tukeminen teknisissä asioissa.
- Osallistut järjestelmän valmistus ja asiakasdokumentaation kehittämiseen ja ylläpitämiseen.
- Suunnittelet ja toteutat asiakkaiden koulutuksia.
- Tehtävä sisältää jonkin verran matkustamista
Edellytämme:
- Sähkötekninen (ins. tai DI tai vastaava) koulutus sekä kokemusta sähkötekniikan ja/tai tehokonvertterien/konvertterijärjestelmien alalta.
- Vähintään muutaman vuoden työkokemus.
- Kokemus taajuusmuuttajista, tehonmuokkaimista, inverttereistä ja varsinkin taajuusmuuttajien/moottorikäyttöjen ryhmäkäytöstä katsotaan olennaiseksi eduksi.
- Alustavaa ymmärrystä PLC pohjaisista automaatiojärjestelmistä.
- Sujuva suullinen ja kirjallinen suomen ja englanninkielen taito.
Tarjoamme sinulle mielenkiintoisen tehtävän ja mahdollisuuden olla mukana kehittämässä uusia uusiutuvan energian sovelluksia kasvavilla kansainvälisillä markkinoilla.
Lisätietoja "Tuoteinsinööri" – tehtävästä toimitusjohtaja/teknologiajohtaja Pekka Seppälä +358 400 931 432.
Lähetä CV:si ja hakemuksesi palkkatoiveineen 15.4 mennessä osoitteella pekka.seppala@msc.eu.
Welcome to meet us at MEE2018 in Dubai
18.1.2018
Msc will be presenting their Hybrid Energy Supply System (HESS) which combines different energy sources like PV systems, batteries (supercapacitors) and aggregates.

MSc News - October 2017
18.10.2017