< All news
Latest news
25.01.2023
MSc DC power supply system for H2 Electrolyzers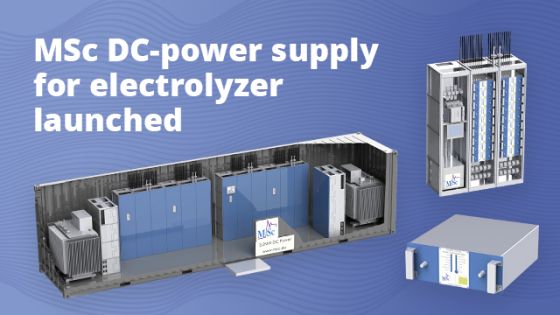 MSc DC power supply system for H2 Electrolyzers has been launched. Modular system architecture enables excellent scalability and reliability. Small, compact and light weight liquid cooled converters are easy to install and service, and they enable scaling from kW level to hundreds of MWs. IGBT/SIC based choppers offer high efficiency and produce low ripple DC current.
MSc scope of delivery can be agreed according to the case specific needs. We can deliver the complete system installed in container(s) including the medium voltage transformers, power conversion cabinets or the power converters. MSc power converters are manufactured at our own factory in Finland and the 3rd party components are supplied by selected, reliable European manufacturers.
Contact our Sales Manager Kari Kulju, for further details and defining the solution for your need.